NanoPi R4S Combo Kit
Reference: R4SCK
Then NanoPi R4S is high-end min-router with edge-computing and dual Gbps Ethernet Ports. It works with FriendlyWRT, Ubuntu, Armbian and may more linux based systems.
*USB-C Power adapter Included
The NanoPi R4S combo kit is a combination of R4S Boards, Metal Case assembled as well as USB-C Power adapter for quick and fast deployment without wasting time in assembly and testing. All kits are tested and ready to go. Custom OS installation request can also entertained.
Dimensions & Views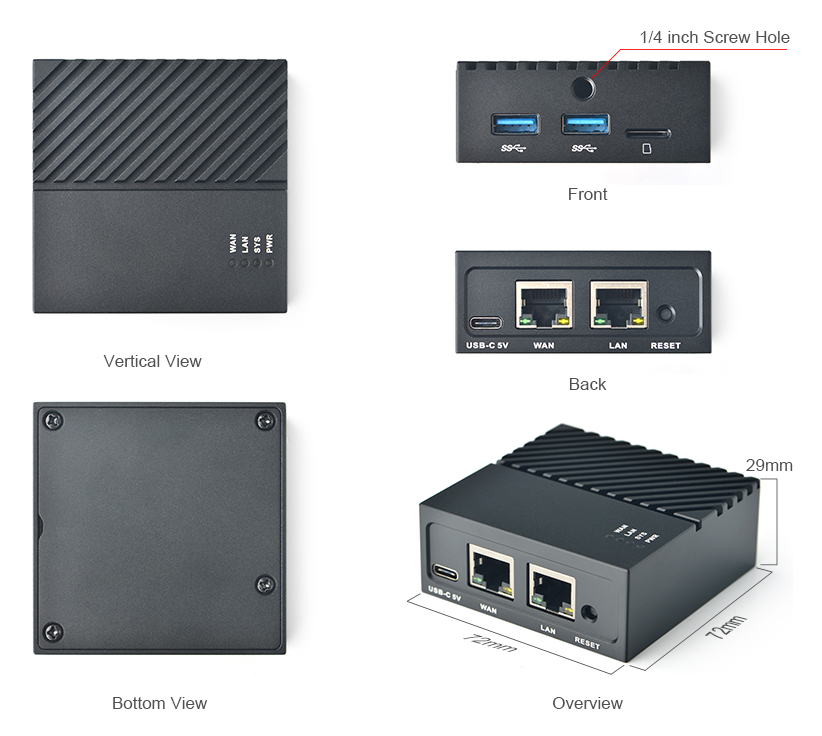 Ethernet Speed and Chipset


Data sheet
LED

1 x Power LED and 3 x GPIO Controlled LED (SYS, LAN, WAN)

USB

2 x USB 3.0 Type-A ports

Processor (CPU)

Rockchip RK3399

DRAM

4GB LPDDR4

CPU frequency

Dual-Core Cortex-A72(up to 2.0GHz) + Quad-Core Cortex-A53(up to 1.5GHz)

Board Size

66mm x 66mm

Storage

No onboard eMMC

Storage Controller

1 x MicroSD Card

Ethernet Ports

1 x Native Gigabit Ethernet, 1 x PCIe Gigabit Ethernet

GPU

Mali-T864 GPU,supports OpenGL ES1.1/2.0/3.0/3.1, OpenCL, DX11, and AFBC

USB-C

1 x Power Connector

Input Power

DC 5V/4A, Via USB-C Connector or Pin Header

Serial port

one Debug UART, 3 Pin 2.54mm header, 3V level, 1500000bps

GPIO

2x5-pin header: SPI x 1, I2C x 1 x 4pin header: USB 2.0

PMU (Power Managment)

RK808-D PMIC, cooperated with independent DC/DC, enabling DVFS, software power-down, RTC wake-up, system sleep mode